Exciting and affordable web development, from Stellenbosch, serving all of South Africa. Swey is a multi-disciplinary communications agency in Stellenbosch and Cape Town, and we offer superior web development services, complete with supercharged SEO options.
Just ask our business clients – from large agricultural businesses to municipalities and councils – Swey does some of the best website development and web design in South Africa. How? Swey offers a more complete web development service at affordable prices, with beautiful design and precision execution that's built around making your website work harder for you.

FULL-SERVICE WEB DEVELOPMENT
From strategic ideation to full implementation, including coding, fine-tuning, testing and employing all the latest add-ons and features to improve your web visibility, we use our skills in design and branding to create visually powerful and exciting websites to your spec.
But we also know that beneath the looks, your website needs to really deliver, which is why we also help with your digital strategy, including our advanced and unique SEO method.
THE BENEFITS OF WEB DEVELOPMENT BY SWEY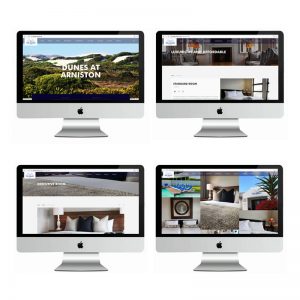 A SLEEK NEW HOTEL IN ARNISTON
A Cape Agulhas haven where it's super easy to book your stay. See the stunning website we created for The Dunes at Arniston.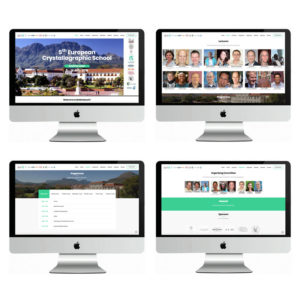 THE WORLD'S EYES ON STELLIES
A highly specialised international conference and sleek new web design. See what happened when Stellenbosch University asked Swey to help up its international standing with a new home for the 5th annual European Crystallographic School.
CONTACT SWEY FOR SUPERIOR WEB DEVELOPMENT
We'd love to grab a coffee and show you what we can do.
FAQs ABOUT GRAPHIC DESIGN
Got a web development or design query? Have a look at these frequently asked questions. Or, just ask us.
What is web development?
In broad strokes, web development is creating (developing) your website from scratch. It involves ideating, creating design and incorporating copy, features, functionality – everything you need your website to do and say – and then making it a reality with computer code. And then, of course, all the testing and optimisations that go with it.
It's taking your brand's look and feel, along with specific functions and features and then translating it all to code to make it a reality in the online space.
Why is web development important?
These days, everyone needs a website. And, at the same time, everyone seems to offer web design services of some kind. But a website is not a simple listing or mere "online presence", no, not anymore. Today, your website can either attract thousands of potential customers to interact with your brand every week, or it can just get lost in the clutter of the web.
Who you choose to do your web development will decide which one of those it's going to be.
What to look for when choosing a web development company
What unique services to they offer? Lots of people do web dev, so find out what this company does that's different

How experienced are they? Talk to the agency's existing clients, read their testimonials

Can they deliver on time? Make sure they have the capacity and the contacts to deliver

Are they priced fairly? Marketing costs can get out of hand, so ask around, get a few different quotes

Can you work with them? Make sure you enjoy and trust the person you're dealing with
For superior service, check out
Swey Design
Plus: Discover more marketing services offered by Swey: